Tucked into a side street in the Haut Marais district, at the corner of the Hôtel de Sauroy and rue de Saintonge, Liquides is a unique place, a perfume "bar" imagined by David Frossard and designed by Philippe Di Méo.
It's a friendly and diverse place that lets you discover specially selected, hand-picked perfumes: audacious, rebellious and of the utmost quality. The precious liquids are lined up on dazzling shelves, made up of golden brass and illuminated by neons, just like high-end spirits in a luxury bar. Clearly rebuffing traditional perfumery,
Liquides is a totally new approach with a unique perspective! At Liquides, perfumes are chosen like a book or a vintage wine, in an attentive and friendly atmosphere.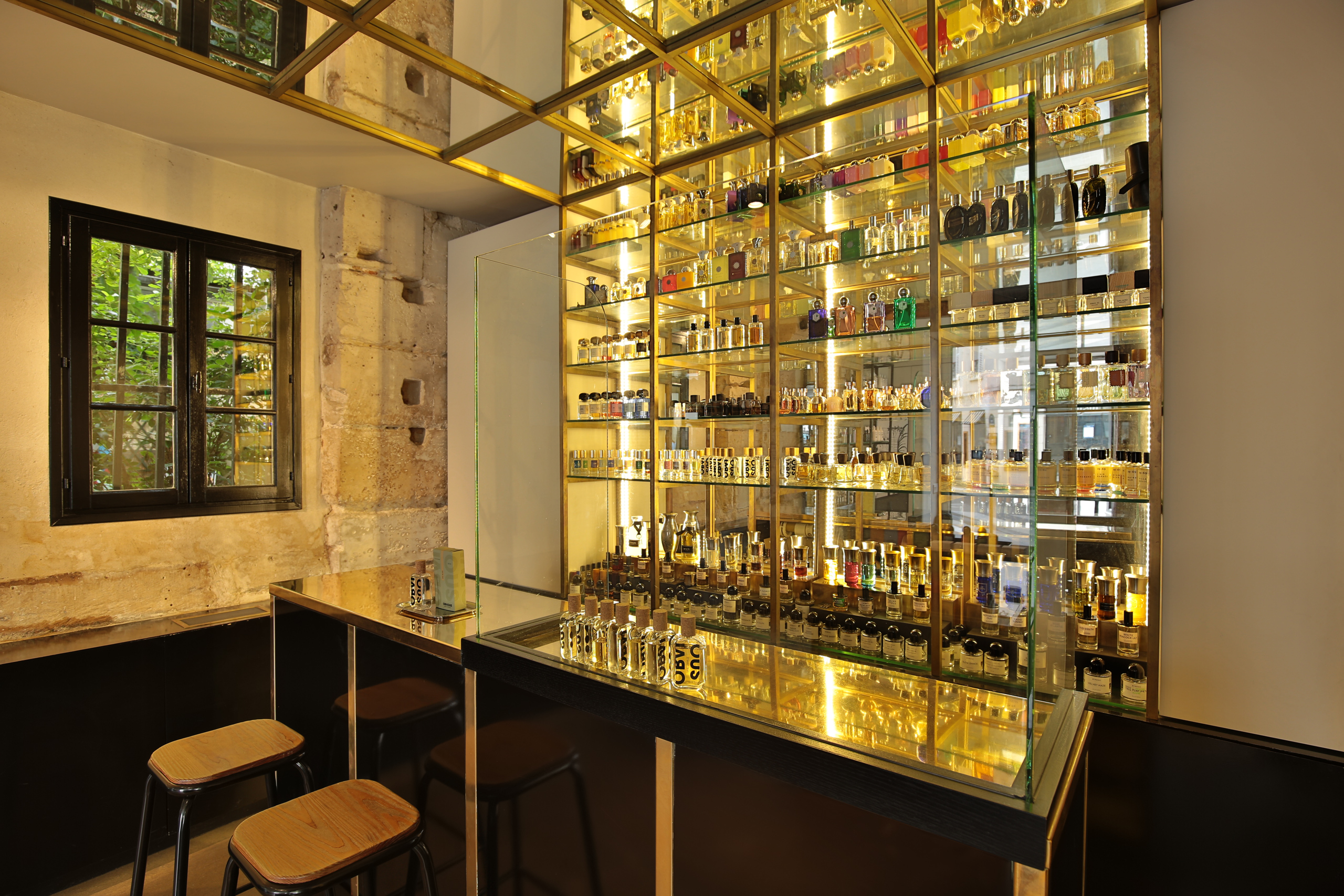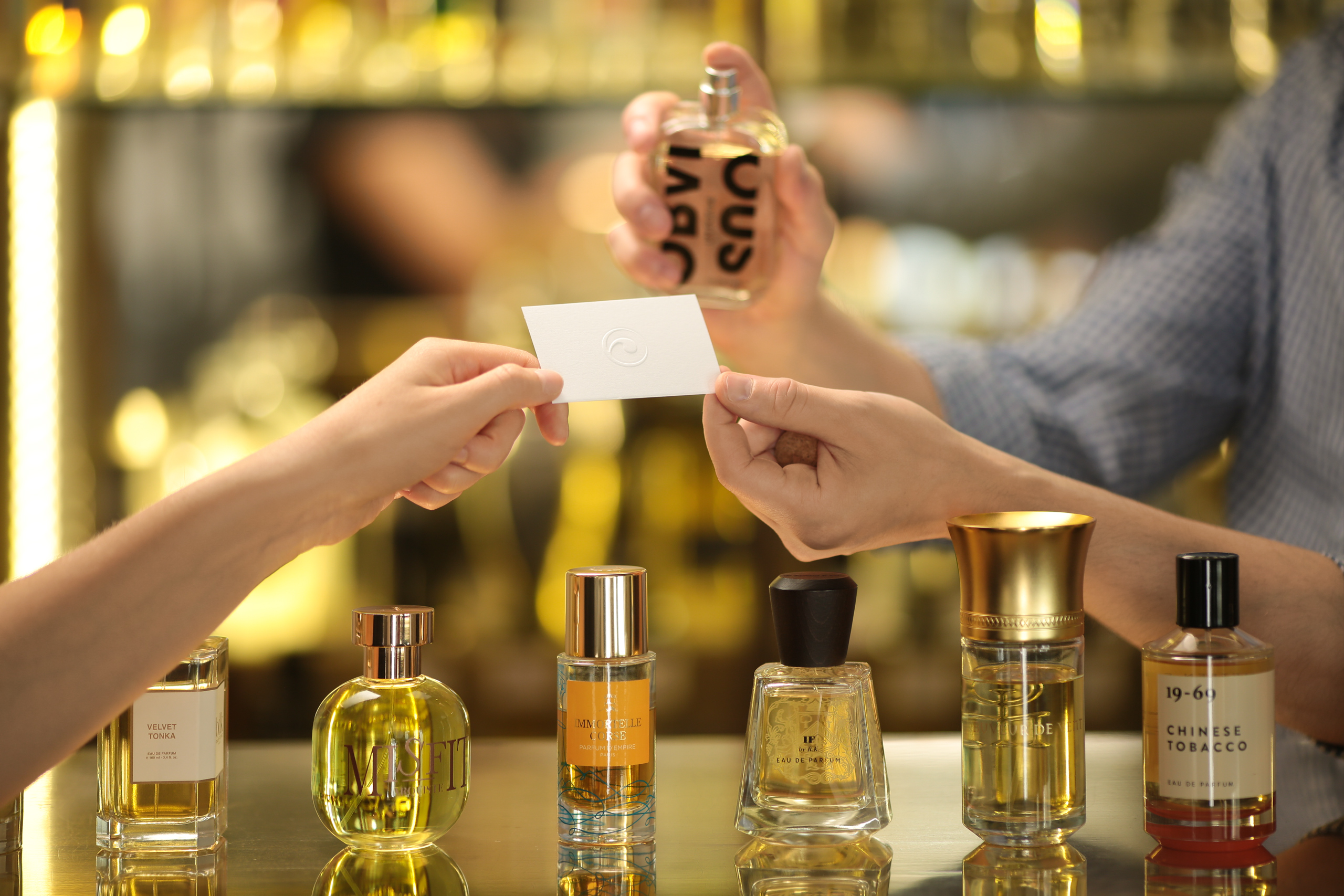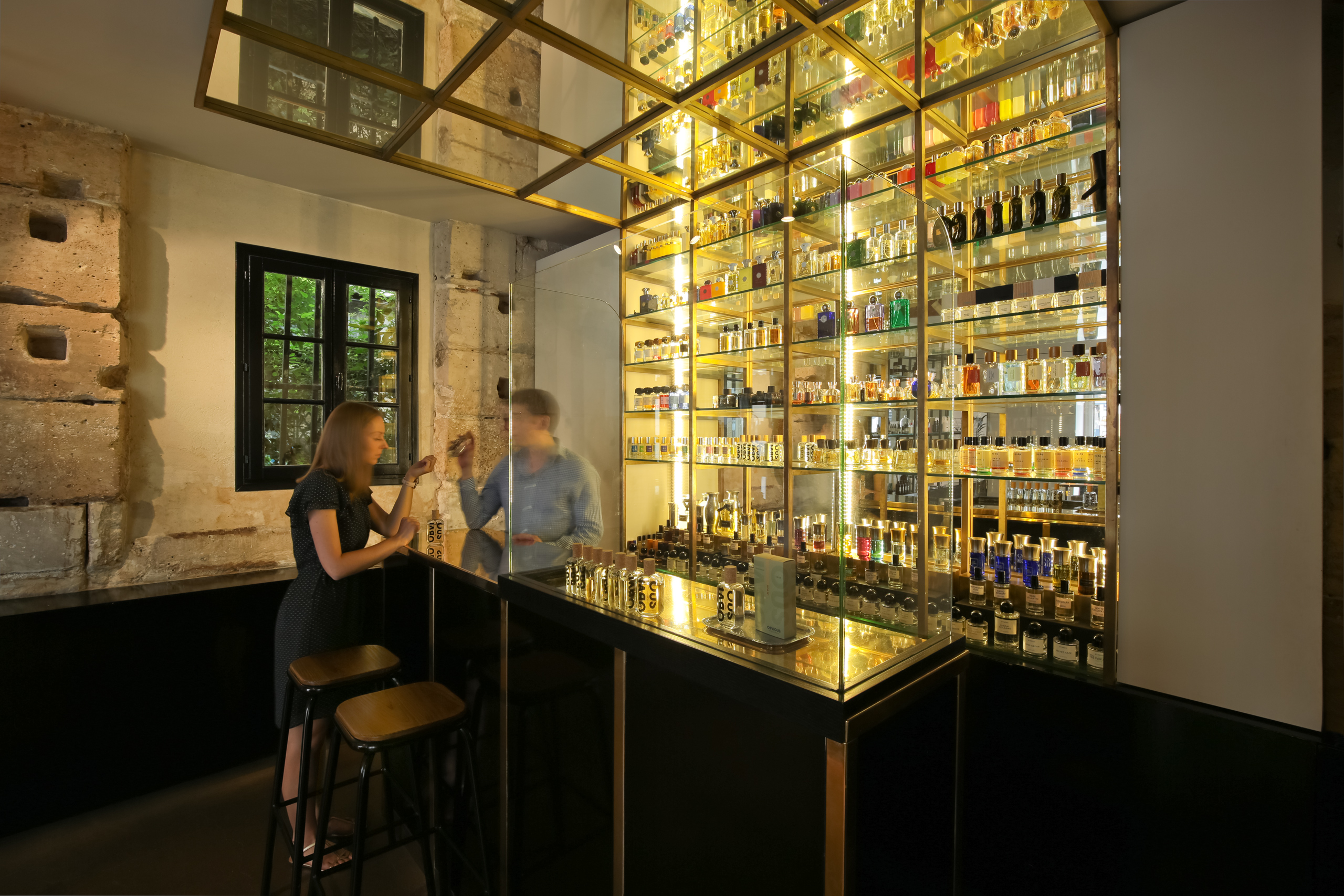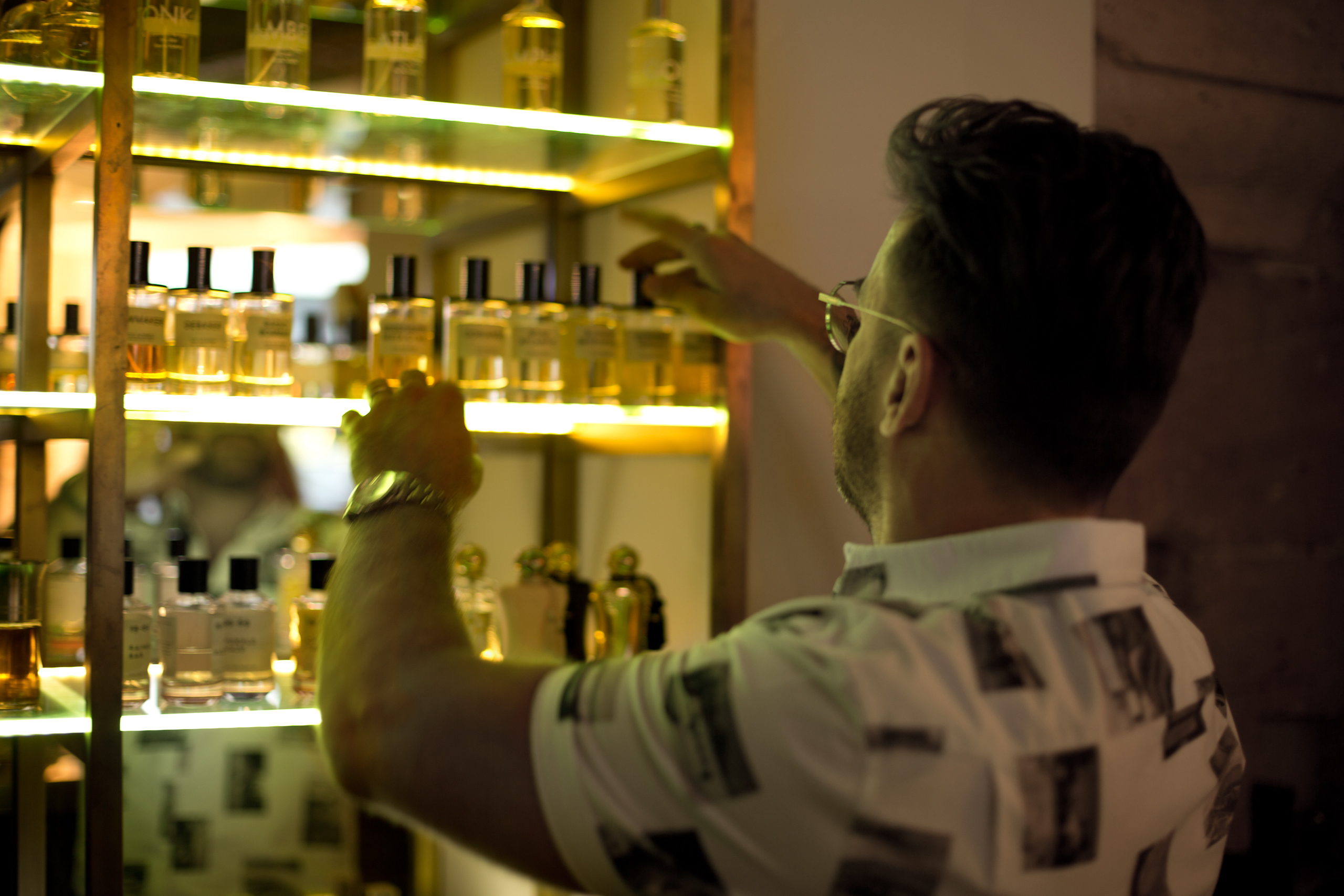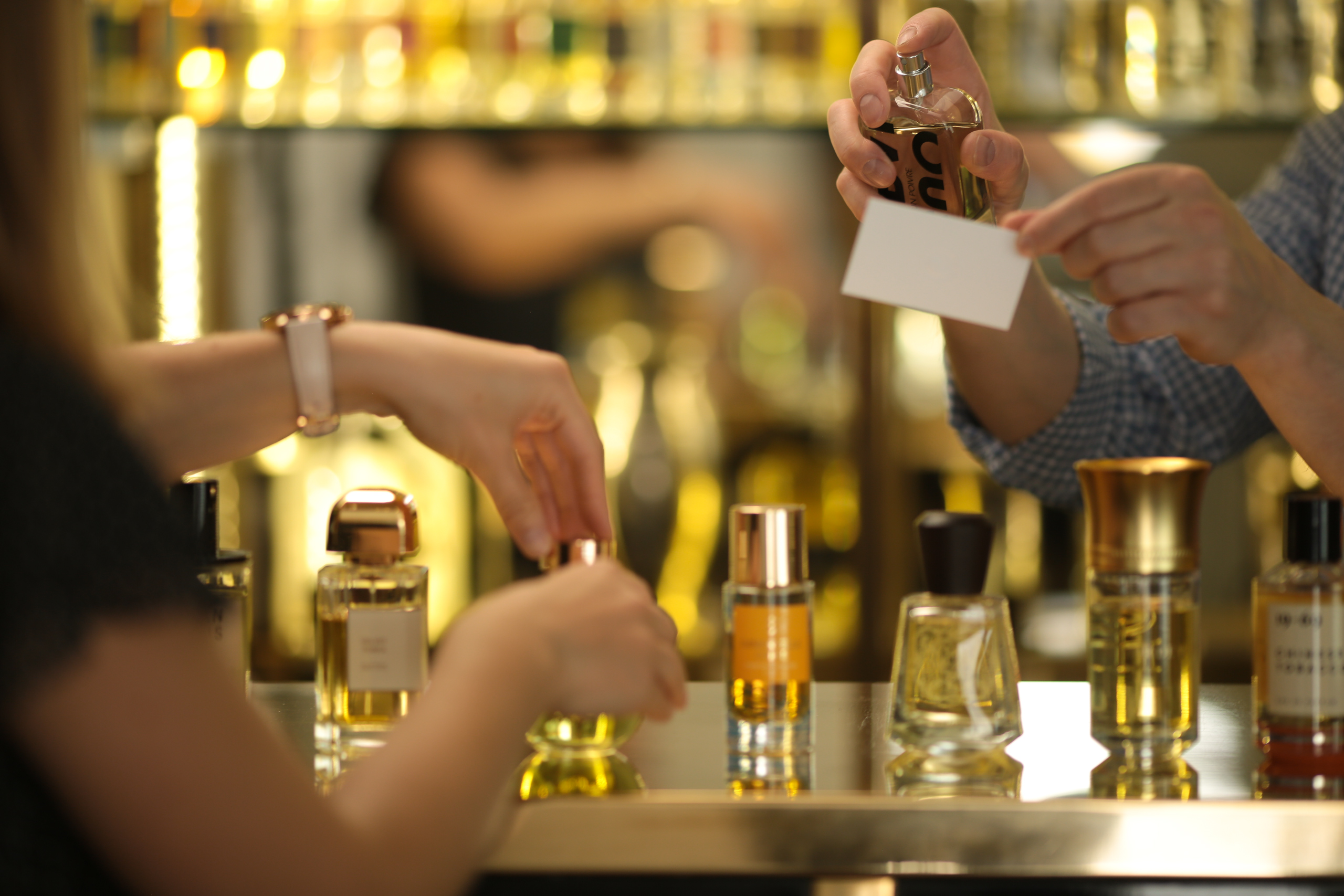 Entering Liquides is about feeling free and leaving our preconceptions behind. You let yourself be immersed in unexpected floating essences in a space dedicated to sharing. You can be guided or not, by a Barman who, from confidences to confidences, invites to the exploration and proposes among a selection of exceptional perfumes the fragrance able to reveal a personality or a state of mind. 
It's about discovering and being intoxicated by perfumes that are off the beaten track. It's about being taken over by the strange power of the most unexpected odors, or coming back to origins, feeling dizzy and living emotions over again. The visitor may lose themself a little, in order to better find themself, or simply lets themself be amazed by an odor, a story, a creator, a raw material, a bottle, a name….
At Liquides, the visitor is told a story, transported, without clichés, by scents and designers who have been chosen for their strong identity, beyond the diktats of traditional perfumery.
Liquides offers anyone who is blinded by the neon lights of common olfactory opinion, another outlook, bathed in a different light. Because perfume is above all a very personal story.
spotter of indie beauty brands
Lover and philosopher of beautiful perfumes, David Frossard founded Liquides with the desire to make a bygone perfumery great again.
A style of perfumery he knew when he started at L'Artisan Parfumeur, after Mûre et Musc set truly creative, independent and poetic perfumery in motion, in opposition to flashy creations of that era. Independent (niche) perfumery was born, dedicated and hand-crafted.
Today it just needed to re-find its origins. Inspired by the idea of this small revolution and his travels in Africa, David ventured out to discover and nurture new olfactory designers with original stories to tell. A viewpoint David has been defending for 15 years.
"I really like the concept of the perfume bar, very chic with its golden counter. But above all, the salesman is a great enthusiast, overflowing with enthusiasm, extremely kind, who knows how to tell the perfumes and their history as few can. A nugget for perfume lovers, a must-see!"
"An incredible welcome both on a human and olfactory level, travel around the world in a few fragrances. To recommend to those tired of industrial scents worn by all."
"The person who welcomed me was very attentive and knew how to advise me according to my tastes, and explain a lot about perfumes in a very educational way. He knew what he was talking about compared to some big perfume retailers. Liquides sells rare and quality perfumes at reasonable prices. A true perfume bar that offers a unique olfactory experience, with a passionate staff. This is the place to visit if you're looking for a fragrance."
"A customer experience like rarely lived! Right away you feel that you are dealing with knowledgeable and passionate people. Thanks again for sharing knowledge and emotions."